A brief biography....
New Zealand's most consistent and pre-eminent record producer, Alan is about the closest thing New Zealand has to a pop hitmaker. Alan started musically in as guitarist in Wellington's Steroids in the late seventies. They released a couple indie singles including the now very collectable Mr Average.
His next band was the synth-pop trio Body Electric, whose single, Pulsing remained in the New Zealand charts for four months. Their single Imagination, whilst not as successful, sounds in 2008, strangely contemporary, and once again, is very collectable.
Alan moved to Auckland in the mid eighties,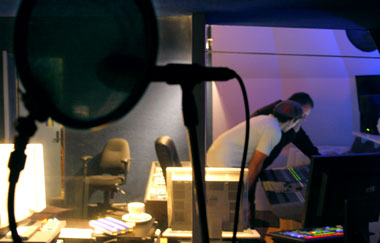 to set up Voxpop Studios, just off Queen Street, intially in partnership with fellow Body Electrician Gary Smith.
At Voxpop, with James Pinker, Dave Bulog and Simon Grigg he wrote and produced New Zealand's first House record, Jam This Record, in 1987.
In the early nineties, moving across the city to a brand new, pupose built facility in Freeman's Bay, Voxpop became Uptown, and what is now known as The Uptown, or, as it's better known, Urban Pacific Sound was born.
Urban Pacific, as envisaged by Alan, is a fusion of the mishmash of sounds that New Zealanders are exposed to. Its the classic kiwi strum meets punk rock meets disco meets a South Pacific beach party meets classic soul meets reggae and everything in between. Alan's fusing of acoustic guitars with hip hop loops became a globally recognisable sound, and is quoted as an influence by a variety of artists around the world.
As a producer in Auckland, Alan's hits started with his first single productions for The Chain Gang (essentially a studio act put together specifically for the project), who had two top twenty hits in a row, this was followed by hits for Marie Sheehan, Tim Finn, The Semi MCs, and Slam & Jam amongst others.
But it was 1994's Proud collection that really established Alan. Proud was an urban Pacific collection showcasing the emerging Pacifican sound coming out of South and West Auckland. Recorded in conjunction with South Auckland community organisations, Proud was recorded, produced and co-written by Alan, and can, now in retrospect, be seen as pivotal moment in New Zealand recording in the '90s. To finish the album Alan committed his time and studio for the best part of a year and put everything he had on the line.
A decade later, in retrospect it was the 1990's equivalent of Ripper's Ak79 or Flying Nun's Dunedin Double, in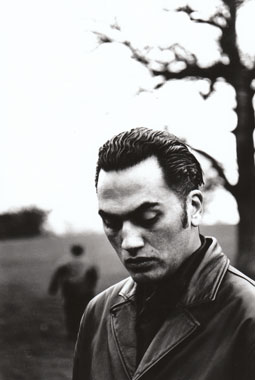 pinpointing an exact moment in time when things changed....never to be the same. The two crucial tracks on that album were Sisters Underground's In The Neighbourhood, which was a substantial Australasian hit and caused global ripples; and We R The OMC by The Otara Millionaires Club. Shortly after their releases both groups broke up and Alan started working with The Otara Millionaires Club's last remaining member, Pauly Fuemana.
Over the next 18 months Alan and Pauly wrote and created the OMC debut album. At the same time Alan, with co-producers James Pinker and Nathan Haines, worked Nathan's debut live-in-the-studio debut Shift Left.
Nathan had recorded 11 tracks essentially live in a two night session using some Auckland's top jazz musicians. Alan & James, with Nathan, essentially took the live tracks and, over a few weeks, rebuilt and mixed the album. The remade album was released late in 1994 and has become the biggest selling jazz album ever recorded in New Zealand. In late 1995 huh! released the debut OMC single How Bizarre and the album followed 7 months later. Since then the album and the associated singles have sold almost 4 million copies, topped charts in 15 countries (including the US, Canada, NZ, Australia) and gone top ten almost everywhere else. How Bizarre has received BMI certification for in excess of two million US plays and the album remains the only NZ recorded album to have received Platinum certification in the USA.
huh! signed OMC backing vocalist, Sina, late in 1996 and Alan in mid 1998 delivered the debut single, Don't Be Shy, a glorious pop fusion of the sixties girl group sound and Alan's trademark Pacifican sound. The record peaked at number two in NZ and sat in the top ten for six weeks, being certified gold. It was really best described by Rip It Up magazine as In The Neighbourhood meets Baby Love.
Single number two, Boy, a look back at the electro-pop of the early eighties, successfully went to radio in late 1998, but release was delayed by the confusion and indecision caused by the PolyGram / Universal merger. The debut Sina album (self named) was due for NZ release late 1999 and internationally shortly thereafter, but suffered as a result of mis-management problems at Universal NZ and was not eventually released. Despite this Boy was named by the prestigious NZ Listener as one of the singles of the year and was featured in the globally released soundtrack to the movie What Becomes Of The Brokenhearted..
Alan was responsible for the New Zealand TV 2 theme for several years, a remake, first with Sisters Underground of In the Neighbourhood, then another using a vocal from singer Brooke Fraser. This ran for three years.
Other recordings in recent years have included work with Greg Johnson, Carly Binding, Selwyn, Graham Brazier, top twenty singles for Spacifix and Fou Nature amongst others.
Alan & Rick are also responsible for mastering many of the more successful NZ releases over the past decade, including some 40 platinum albums..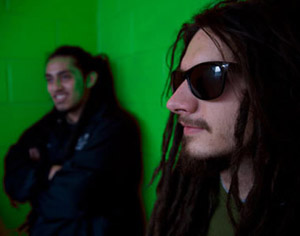 Alan's recent projects include 3 The Hard Way's comeback album, Eyes on the Prize . The first release on the Joy label, co-owned by Alan & Simon Grigg, was co-produced by Mike Paton from the band, and Rick Huntington, Alan's long standing engineer and a man widely regarded as having the best ears in NZ. The first single off the album, It's On was a number one New Zealand hit in late 2003. The album reached number 14 on the New Zealand charts.
At the time of writing Alan has, once again, been producing OMC, with the debut single, 4 All Of Us, a duet with Lucy Lawless, released on Pauly's Orpheus label. The debut album from Auckland alt-hip hop act, The Others Requiem, which has taken some two years work was released on Joy, in late 2007, via SonyBMG.
His current project is the debut album from Auckland singer songwriter Tim Dobier and a collection of unsigned NZ acts.