Uptown Studio
Uptown Studio is a purpose built facility in Auckland's inner city Freeman's Bay (conveniently just off the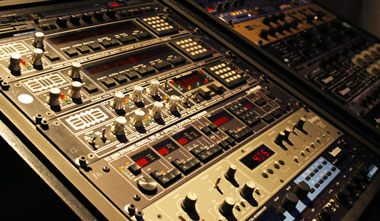 motorways and behind Victoria Park Market in an area populated by restaurants, agencies and production houses). It is privately owned by Alan.
Alan's first Auckland facility, Voxpop, was just off Queen Street, behind where Real Groovy Records is now. His partner there was Gary Smith, with whom he had played in Body Electric. After buying out Gary at the end of the decade, Alan searched out a more appropriate space for his dream, and found it in large brick building which he, having borrowed very heavily, gutted and constructed the studio he'd always wanted to work in but was unable to find in New Zealand.
Uptown opened in the early 1990s. It has been almost continually upgraded since then and contains a full 5.1 capable recording and mastering suite in a totally secure enviroment.
The studio is encased in a floating capsule with an interior designed by acoustic scientists operating out of a NZ government funded acoustic lab. It is totally unique in New Zealand.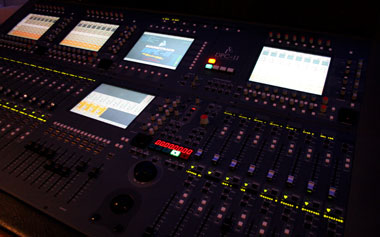 The control room is designed to focus different elements of the recorded sound in different parts of the room.
The lounge has 5.1 AV auditioning facilities with a 63 inch screen.
Exclusively used by Alan Jansson and Steve Robinson, Alan is happy to discuss any project you may have, no matter how small or large.
Studio Equipment List
Soundtracs DPC II automated mixing console (160 channels with effects)
Fairlight Dream Satellite 48 track DAW
Fairlight MFX 2 16 track DAW
Fairlight Series II 8 track Sampler/Sequencer
Avalon Vacuum Tube Vt737sp
Avalon Vacuum Tube Vt737sp
Spectrum Analyzer
TC Electronics M5000 Effects Processor
Eventide Ultra Harmonizer DSP4500
DBX Quantum digital mastering processor
Eventide Ultra Harmonizer DSP4500
DBX Quantum digital mastering processor
Waves L2 Ultramaximizer
Lexicon PCM 90 Digital Reverb
Focusrite 6 pre-amp
Focusrite 7 pre-amp
2 x Empirical Lab EL8 Distressors
Joe Meek Compressor
Ocean Power Amp
AMS RMX16 Digital reverb #1
AMS RMX16 Digital reverb #2
AMS DMX 15-80s Stereo DLL Processor
BSS Dynamic Equalizer DPR 901
SPL Tube Vitaliser
TC Effects Processor
Aphex Compeller Compressor
Bel DDL Digital Processor
Alesis XTC reverb unit
Teletronix LA2A valve compressor
Antares ATR-1 vocal processor
djr Program Equalizer DPR 901
G-Force guitar processor
Soldano guitar amplifier
BBE 802 Stereo Processor
Neumann M149 tube microphone
Neumann TLM 170 microphone
Shure KMS 88 microphone
Royer R-121 microphone
Nord Lead 2 virtual analogue synthesizer
Korg TR – Rack synthesizer
Roland Juno 106 synthesizer
Roland U220 Sound Module
Roland TR909 Rhythm Composer
Sequential Circuits Prophet Pro One Synthesizer
Roland JX8-P synthesizer
2 x Novation Bass Station
ADA Guitar Amp/processor
Rockman Guitar Amp with Rockmount
JBL LSR Studio monitors
JBL 4412A Speakers
JBL 4412 Speakers
Dynaudio Acoustic BM6A Speakers
Yamaha NS10 Speakers
JBL Control One speakers
Tannoy System 800 speakers
Technics SL 1200 turntable
PS Audio pre amp & amplifier
Perreaux PMF 5150B power amplifier
Gibson Les Paul Electric guitar
CD Sound Effects Library
Sequential Circuits Prophet 5 synthesizer
Roland D50 synthesizer
Korg M1 synthesizer
Fostex d-30 DAT master recorder
Sony DAT TCD D3 recorder
Aphex Aural Exciter Type C with Big Bottom
Kurzweil Micro Piano
Faema Espresso Coffee Machine
Faema Espresso Coffee Grinder (best Coffee in town)